Synthon chooses custom designed packaging for pharmaceuticals
Synthon was looking for a new high-quality package for its tablets and capsules. CurTec developed custom packaging that is not only easier to use and recognize but also able to reduce supply chain costs.
Pharmaceuticals manufacturer Synthon started to use packaging made by CurTec some years ago. Derk Sanders, Director of Technology & GMP Implementation, told us how recognisable the 20 litre wide neck drum already was for their customers. This was made possible by its distinctive shape and the screw lid in the familiar Synthon company colour. "The container gave our products a face", said Derk. "Furthermore, we were extremely satisfied with the quality of the container. It had the right wall thickness, was sturdy and did not affect the stability of our tablets and capsules over the long term."
Custom packaging
Although Synthon was satisfied with the wide neck drum, the packaging proved to be too large for a number of applications. Synthon asked CurTec to develop a high quality alternative with a lower price. The container needed to be widely deployable and just as easy to recognise as the old packaging. Derk: "CurTec developed various prototypes for us. We eventually chose a nestable 20-litre container (Click Pack) which offered the most benefits to Synthon.
Practical benefits
Synthon has now been working with the new packaging for around two years. What is it that stands out most about this packaging? "The large opening makes it is easy to fill the container", said Derk. "An important advantage of the Click Pack compared to the drum is that it allows PE liners to be easily emptied and removed. The nestable container does not have a neck but a large opening instead which means that there is no resistance to the bags. Another important advantage is the unique closing point which is important for our contract manufacturers. There is only one way to close and open the container which provides clarity."
Cost reductions through nestability
In addition to being easy to use, the new container also contributes towards a better environment and lower supply chain costs. Derk: "When we ordered drums from CurTec in the past, it involved a large number of pallets. Click Pack is nestable and therefore takes up far less space during transportation. Where in the past we needed ten pallets, now we only need two. This gives us considerable savings on transportation costs."
Bulk packaging with guaranteed quality
Regardless of the number of benefits offered by the packaging, one requirement was paramount in the final decision: quality. The new container had to offer exactly the same barrier against water vapour and air. "CurTec tested the container for air and water vapour transmission and it proved to be of equal quality", said Sanders. "The stability of the container for pharmaceutical products was also extensively tested and it passed with flying colours. CurTec was also audited again, with a positive result.
Reliability of delivery, guaranteed quality and the way in which a company organises its processes are other important aspects. It is not easy to change packaging in a company that manufactures pharmaceutical products. The questions are always the same. "Is it better? Is it the same? Or is it cheaper and therefore perhaps of a poorer quality?" The manner in which CurTec deals with quality fits into the way of thinking at Synthon. We want to guarantee this throughout the entire cycle."
A recognisable packaging
Synthon also used this consideration to display its quality. "Synthon wants to provide quality and therefore our packaging has to be in close keeping with this. It needs to be neat, simple and effective. We looked at various other containers. CurTec stood out because of the design, attention to detail and the feeling that you get when you pick up a container. It is difficult to put into words, but it does play a part in the perception of quality", said Derk. "We chose a white container with a "ruby-red" lid. That is our company colour and makes the container recognisable throughout the world."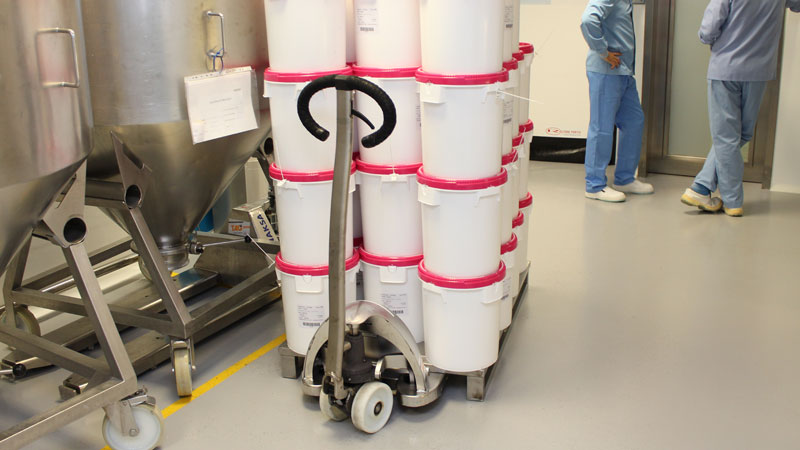 Future: from transport packaging to bulk storage
Synthon uses the new Click Pack to transport its tablets and capsules. We first pack them into a double PE liner with a desiccant in between and these are then put into the container. We then send the containers to other sites in Europe where the tablets are put into blister packs. Derk: "In 2013, we opened a new factory in Chile. There we also want to use the container, if possible, for the bulk storage of active ingredients. Protection against water vapour and air also plays a crucial role here."
The first Click Pack was brought into use in 2011. Since then, Synthon has not received any complaints. "We assume this means that our customers are satisfied", said Derk. "The new packaging meets the set quality requirements and provides welcomed savings. Furthermore, it stands out because of its shape and colour."
---
We developed packaging for pharmaceutical manufacturer Synthon, which enabled them to promote their quality and maintain their image. They reduced their supply chain costs and increased ease of use for their customers. Would you like to know how CurTec packaging can help you meet your company objectives? Request a Packaging Scan.