UV lacquers require clean and secure packaging
UV curable lacquers are high value liquids that require clean, safe and secure packaging. These lacquers are part of the range of coated films and blended liquids that MacDermid Autotype manufactures and sells to the printing, automotive and electronics industries. I spoke to Gary Field, Senior Production Chemist, about the specific packaging requirements and drive to invest in high performance packaging.
Gary explained to me that when they first moved into texturing and matting lacquers in the early 1990s, they were using ordinary white polypropylene pails to pack and ship the UV curable lacquers to customers worldwide. "Although these pails were offering, sufficient protection when stored inside, we became aware that if the pail was exposed to sunlight part of the content would still be liquid but the outer part could be completely cured because of the UV light. That was a clear reason to change packaging."
Prevent leakage
Another reason to look for alternative packaging was to avoid potential leakage issues. Even though the UV curable lacquers will set to a gel almost instantly and do not seem likely to leak from any pack, they will expand and set again under the influence of temperature change. The PP pails could not prevent the lacquers from sweating out under pressure. They were also not resistant to sudden impact or abuse during shipping.
So when Gary accidently came across the 6 litre CurTec drum at the Chemspec exhibition he thought: "That's the drum we need!" He proposed it to procurement who initially thought it was too expensive but after careful consideration and recognising the benefits it was agreed that the CurTec drum was indeed the right choice for their high value lacquers.
Customer needs
"CurTec drums are very robust and difficult to squash. Even the screw top is completely resistant to leakage. Our lacquers are moisture sensitive and the closure protects them from water ingress. We buy the black UV safe drums which prevent the lacquers from curing during transport and storage. Compared to the PP pails, the drums are so easy to handle: the 6 litre drum is ideal for decanting. Also, our customers want to clamp a drum and stir the content before feeding a mesh for printing. Pails cannot be clamped, the handle is in the way, and it can be a struggle to get the lid back on. CurTec drums are fast and easy to close and prevent the lacquer from collecting dust in the process" says Gary.
Another reason for MacDermid Autotype to choose CurTec drums was the fact that they are stackable. At the request of a major customer, together with Laminar Medica they developed a reusable temperature controlled outer packaging which maintains a constant temperature during shipping for 96 hours. It prevents the lacquers from changing viscosity under the influence of temperature changes and keeps the valuable products intact. They can stack two layers of drums in the outer box thus optimising the shipping load.
We have asked CurTec to provide a very high level of cleanliness
and the hygiene level they provide matches with our specs
Odour
I asked Gary whether the UV curable lacquers require UN certified packaging: "The UV lacquer is an irritant. It is non-hazardous for transport but it has a strong odour. If the product somehow escapes the packaging it is not only a real mess but it will also reek for days. CurTec packs prevent the odour (and the product) from escaping."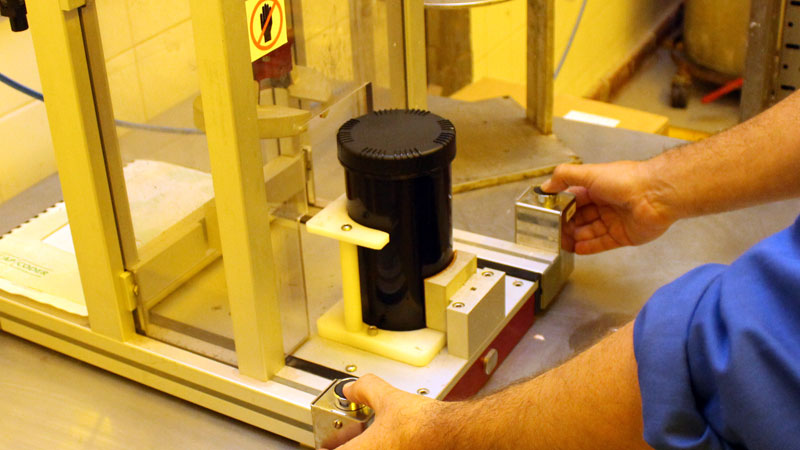 Product safety
UV curable lacquers are also sold in smaller quantities. It is the same UV gel but with a lower viscosity, so leaking becomes a bigger issue. Gary explains: "The original pots used were difficult to close, you could push on the lid and they would appear to be sealed but you would have to make sure that the various lugs in the top rim and lid would match to prevent leakage. With CurTec Packo this is not an issue making the packing operation more efficient and cost effective – a very attractive benefit and the management decided to change over to the secure and easy to operate Packo."
Hygiene requirements
MacDermid Autotype requires the Wide Neck Drums and Packos to be clean and free of dust and dirt. I asked Gary why they have strict hygiene demands. Gary shows me a screen painted automotive dial: "When you think that this coating is only a couple of microns, the tiniest bit of dirt will sit on the surface. We need to ensure that the packaging is not exposed to air until just before we need to fill it because dust and dirt will ruin most of the liquid products we sell. Hygiene is absolutely critical!"
"We have asked CurTec to provide a very high level of cleanliness and the hygiene level CurTec provides matches with our specs. We don't want to have to routinely carry out hygiene checks, as it will likely increase the chance of contamination so we have to be able to rely on our suppliers, and CurTec is a supplier we can and do rely on. Our UV curable lacquers are amongst our top-selling products for years now and we have never received complaints caused by dust. For that type of texture in lacquer that is quite significant in our industry!"
Many thanks to: Gary Field
---
Do you have specific cleanliness requirements? Feel free to discuss them with us. We will perform a packaging scan and advise you on the safest packaging solution.